This Haggadah, the first in a series of city-specific Haggadot, is bursting with rich China flavour and depicts each part of the seder through the places, culture and street life that makes Beijing special. It is a unique answer to the instruction to retell the Exodus story 'in every generation'. China is one of the latest outposts of the Jewish diaspora, and this Haggadah expresses the Jewish story through the contemporary life of that place.
即將出版:對於古中國之手和中國好奇者: 哈加達散發著濃郁的中國風,並通過北京與眾不同之處、文化和街頭生活,並描繪了家宴(seder)的每一部分。這是對"每一世代"代代相傳的出埃及記故事的獨特回答。中國是猶太人散居國外的最新據點之一,而這個哈加達則通過北京的當代生活來表達猶太人的故事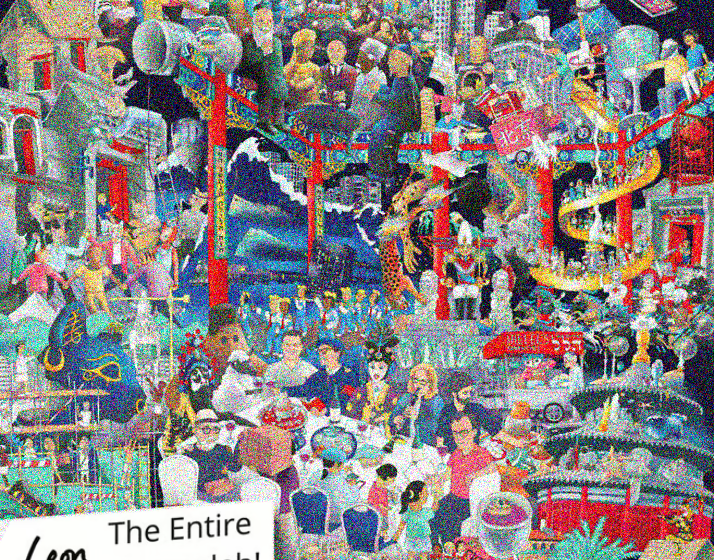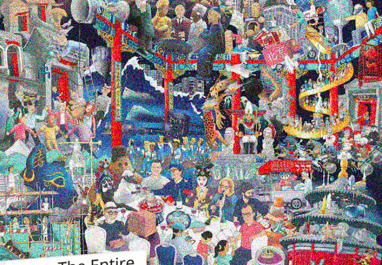 A depiction of the entire Beijing Haggadah in a single artwork
A page from the Beijing Haggadah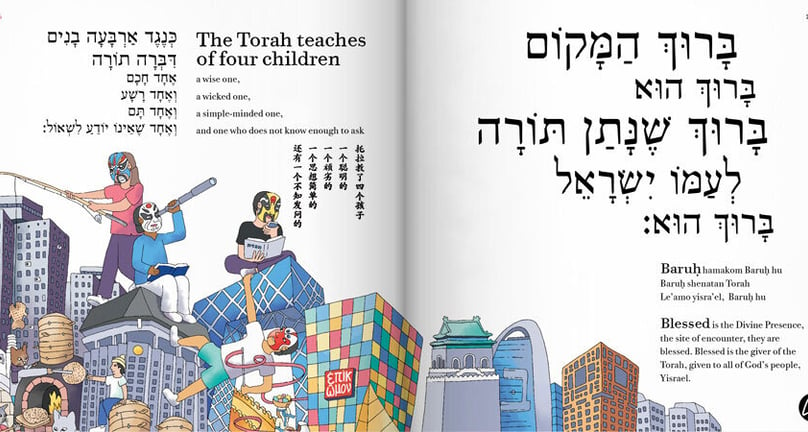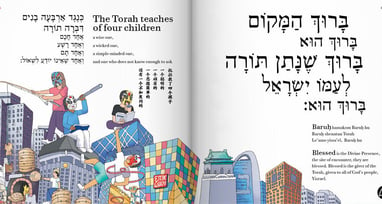 The pages of this Haggadah are richly illustrated with original artwork in joyous color. Every piece of imagery is imbued with meaning and full of details to discover each year.
充滿活力光彩: 這個哈加達的書頁上充滿了歡樂色彩的原創作品。 每一張插圖都充滿著意義和豐富的細節,每年都可以重新發現。
As much care has been put into the typography as into the artwork. It is clear, easy to read, and elegant. The text is in Hebrew and English, with transliterations.
美麗的文字: 在排版所花心力和畫作相當。清晰,易讀且優雅。文字為希伯來語和英語,並帶有音譯
Along the bottom of each page one will find a full commentary which explains the layers of meaning contained in each of the Beijing Haggadah's illustrations as well as the aspects of Chinese culture that inform the artwork.
每張插圖皆附說明: 在每頁頁底,您都可以找到完整的註釋,解釋北京哈加達中每張插圖的含義,以及為藝術作品所提供的中國文化資訊
Michael, originally from Massachusetts, had a deep love for living in China. The guiding principle for creating every artwork in this book was to make the Haggadah that he would have loved to use. A Haggadah for anyone with a thirst for discovering new worlds and immersing themselves in new cultures.
紀念邁可·H·科恩(Michael H. K. Cohen): 邁可來自麻州,熱愛中國生活。創作本書中所有藝術作品的指導原則是製作他會喜歡使用的哈加達。他所喜歡的哈加達是一個渴望發掘新世界並沉浸於新文化者的哈加達。
呈現整幅哈加達的藝術作品
In addition to the book, Leon has created an 80x80cm artwork that contains the entirety of the Beijing Haggadah. Possibly the first of its kind. In most of his artworks, Leon habitually depicts the world as a series of collided memories and ideas rather than chronologically or geographically. This is very similar to how the traditional Haggadah tells the Exodus story. As such it was only natural to depict the Haggadah as a single, chaotic artwork. Seeing the Haggadah in this form is striking and surprisingly intuitive. Prints of this work are available for purchase.
除了本書外,Leon還創作了80x80公分的藝術作品,綜含北京哈加達的全部內容。這可能是哈加達首次以此方式呈現。Leon在大部分作品中習慣性地將世界描述為一系列相互碰撞的記憶和想法,而不是按時間順序或地理位置描述。這與傳統的哈加達講述出埃及記的故事非常相似。因此,將哈加達描繪成單一的混亂藝術品是很自然的。看到這種形式的哈加達是驚人的,並且令人驚訝地直觀。可以購買此作品的版畫。
Stay tuned for future Haggadot that Leon will be creating, including for other places in the world.
更多哈加達: 請繼續關注Leon將會創造的未來哈加達,包括世界其他地方。